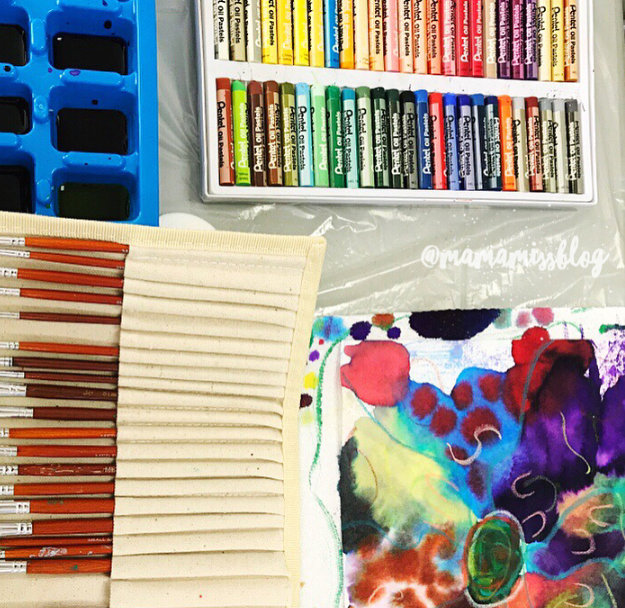 Hello.
I'm Melissa, the owner, creator, and educator of Mama Miss Art Studio. I love inspiring art experiences in children and seeing their imagination and art skills flourish in my classes.

My art class philosophy is that everyone is an artist, and that, "there are no mistakes in art". As a homeschool art teacher and private art teacher I have the ability, without the bureaucracy shackles, to allow kids to learn in a way that fills their needs – there is no wrong or right way in my classes. I consider my classes non-stressful, with loads of positive energy.
There are no mistakes, only happy accidents.

― Bob Ross
about me…
I hold a Bachelor of Fine Arts Degree and have taught art classes as a homeschool art instructor through Dulles Area Homeschoolers for the three years that classes were offered at DAH. My background is in teaching, retail management, fashion merchandising, fashion show production & management, visual display merchandising, visual styling, and graphic design. After my time teaching with Dulles Area Homeschoolers, several students and their families contacted me, requesting that I still teach art, ergo, Mama Miss Art Studio classes emerged.
about my art classes…
Keeping with the same format as with DAH, each class outline delves into a specific technique or artist inspiration. My ultimate goal is to never repeat a project (and at almost five years of my classes, I haven't yet)! I want my art students to touch, see, feel, and use a never-ending bouquet of mediums, materials, techniques, and artists.
My classes are NOT fine art classes – yes, we will touch on some fine art techniques, but each class is very different. For example, we may be sketching with pastels one class & the next class we are creating a sculpture out of toothpicks! On the first day of class, you'll get a layout of the land, so to speak – an outline of what we will touch on each week, including what supplies are needed each individual week from the student and what supplies I will be providing.
Mama Miss Art Studio classes aspire to be a special place in the homeschooling community for kids of all ages to explore, create, imagine and grow their love of art.